The continuing saga of Brogan, Kirth, Chad, and Patches all in an easy to create cut/paste package.
Commisioned A very humorous fantasy comic that I read everyday.
Little Gamers The very first webcomic I ever found, the reason I fell in love with the art form that is webcomicing... or however you spell it.
Ctrl Alt DelOne of the big three. I thoroughly enjoy this amazing gaming comic, and I think you will too... Chef Brian pwnz joo.
Chugworth AcademyFanservice plx. I believe this is some of the best manga artistry out there... Everyone else should just give up trying to top it.
Sam and FuzzyMy personal favorite webcomic... 'nuff said.
ExtralifeAwesome gaming comic... Awesome podcast.
The Outer CircleSteve is a vicious cock... That's why we love him.
Bored and EvilA great comic about adjusting to roommates of the worst kind... Humans.
HousdJust don't ask.
White Ninja ComicsIf you love random humor... Welcome home.
Saturday Morning Breakfast CerealIf you love random humor... Welcome home. Part Deux
Joe and MonkeyCute and hilarious.
OrneryboyI hate Ornerboy, and by hate I mean love.
V.G. CatsVideo games and cats... How can you lose?
The NoobA sweet ass take on MMORPG's.
Elijah and AzuuThe all stars of Drunk Duck represent.
DevstyleIf you gotta' have style... Might as well be Devstyle, plus the lineart pwnz everyone else.
ToyzvilleA newie, but a very goodie... Hilarious take on being a toy, also has some familiar faces.
P.V.P.Another one of the big three hilarious office/videogame commentary one of the forefathers.
Penny ArcadeAnother one of the big three The big dog, full of insanity and sidesplitting humor.
John and JohnA sick webcomic... Not appropriate for work.
Nazi HighA nice look at highschool life.
Nothing Nice to SayIf you liked that movie SLC punk... You still have no clue... Read this.
Boy on a stick and SlitherIf the premise of this one isn't enough to make you read, then perhaps the kick ass humor will be.
Theater HopperThis guy likes all the same movies I do... I win.
Urban MythFound this one by accident, been one of my faves ever since... Awesome art. I love Macgyver too.
Butter Nut SquashOften not updated, but when it is... It is sooooo worth the wait.
Make With the Funny... Or Die TryingThis comic is like a thousand bad ass buddy movies rolled into one.
No 4th Wall to BreakNo 5th or 6th for that matter either.
SinfestHas some of the best characters around... Read the entire archives.
NiegoSomething about this comic makes me think that it actually happened.
Taking the bi-passCanada... Canada... Do yourself a favor and find the video for my ass is bad it roxors.
Rob and ElliotWe all know guys like these...
The Off ChanceJust started reading this one... Looks promising.
Dead DaysKick ass college comic with neat designs.
Least I could DoSexy Chicks and a hero that is well... Hung?
Year Oneyear one is more of a D.C. comics term, but this is very much a chibi-marvel comic very cute... Very funny.
The Coffee AchieversMitch Clem + Joe Dunn + no pants = Good comic?
Apple GeeksWhy aren't these guys working for Marvel or D.C.?
Mac HallNeato-Keen art and good story.
DominionBig Evil really likes demons.
Cigarro and CervejaA cute comic on the surface, but just beneath... Pure evil.
Imaginary FriendsAnother relatively new comic very good story and charming artwork.
First Place LoserHas elements of all the best comics.
College BoundEventhough Suizcomics gave this one a bad review, I think you should still scope it out. Very realistic type of writing.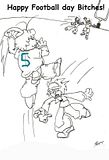 My daily webcomic intake...